ViKtory
Sr. Castle Member
Good news for all PC gamers! Now, you can enjoy better gaming experience with the latest version of Game Booster v2 Beta!
With improved interface and newly added features, Game Booster v2 Beta is a freeware Windows application that is designed to help optimize your PC for smoother, more responsive game play in the latest PC games with just a click of mouse button.
What's special about Game Booster is that even though you are running only mid or low-end computer, Game Booster can helps you achieve the performance edge previously only available to highly technical enthusiasts.
It works by updating hardware drivers, downloading essential gaming tools, tweaking system settings for gaming, defragmenting game directories, temporarily shutting down background processes, cleaning RAM, and intensifying processor performance.
Key Benefits in Game Booster v2 Beta
• Slide to enter Game Mode - Game Booster v2 can easily and fast close background processes and unnecessary Windows services, to speed up you game playing and avoid possible conflicts and incompatibility.
• Install latest drivers for modern PC games.
• Get useful game tools, like Directs or Steam, to enjoy better gaming experience.
• Defragments game directories and files, to make your games load and run faster than ever.
• Tune up PC for game play and internet speed with a single click. .
• Does not overclock your hardware
--
How to Use Game Booster v2 Beta?
On the main window, when you are ready for gaming, just slide the arrow (next to the Slide to Boost) to the right to configure the gaming mode.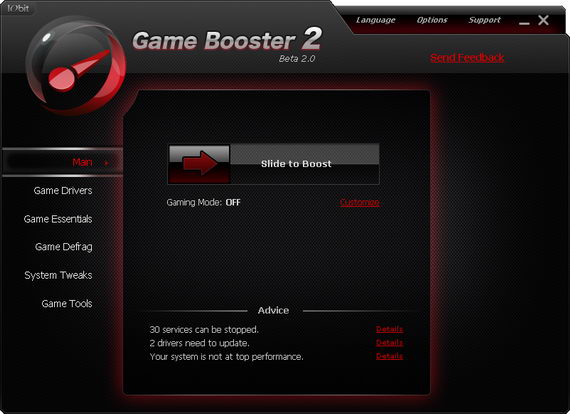 Shortly after, a dialog box will pop up. Click OK.

You will see a list of unnecessary Windows services and third parties's services that Game Booster will temporarily shut down to save system resources.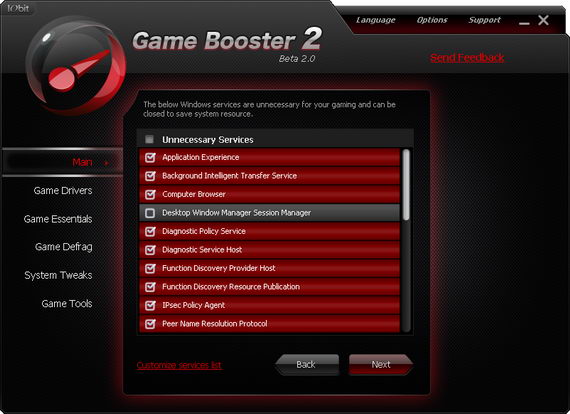 Also, you can choose the background running applications that you want to close for gaming. Then, finally choose the "Yes, use Gaming Mode Power Plan" to change your power settings to high performance.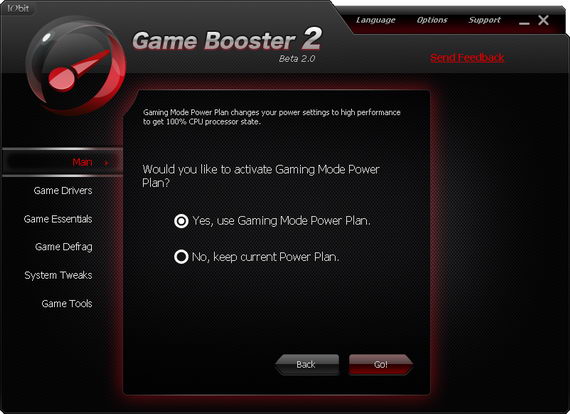 Click Go! and you are now in the Gaming Mode!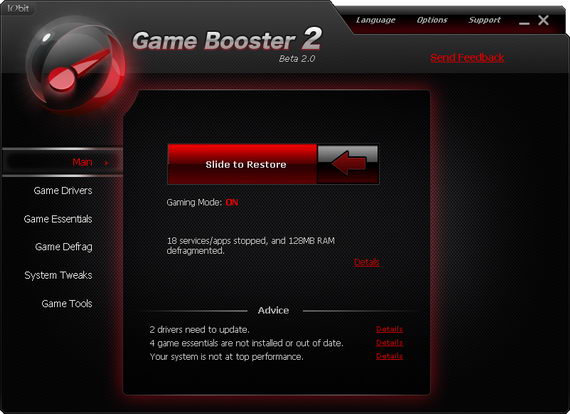 To return to normal mode, just slide the arrow (next to Slide to Restore) to the left.
In addition, there is one newly added feature which caught my attention. It's the Game Box which resides above the system tray.
Any games that you want them to run in gaming mode, simply drag and drop the game shortcuts into the Game Box. By clicking the game shortcuts in Game Box, the gaming mode will be automatically activated. That's cool or what?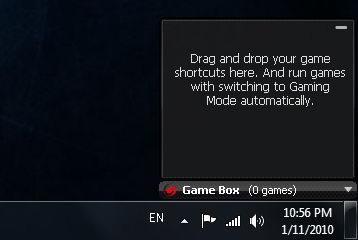 Game Booster v2 Beta is free for download and runs perfectly on
Windows 2000, XP, Vista and 7.
--
Download Link :
http://www.majorgeeks.com/Game_Booster_d5952.html